For a brighter, whiter smile
The safe and simple way to a brighter, whiter smile.
There are a number of reasons teeth can lose their natural whiteness, including diet, ageing, certain medications, smoking, certain food and drink, and trauma. Teeth whitening is a safe, chemical process that can brighten teeth and eliminate discolouration. We offer both in-surgery whitening and whitening kits which you can take home and do yourself.
Home kits include whitening trays that are custom-made from impressions of your teeth. These are worn daily with a bleaching gel, for a specified length of time. Once you've completed the course of treatment (normally a couple of weeks), you will come back for a follow-up appointment so we can check the results.
Before & After Teeth Whitening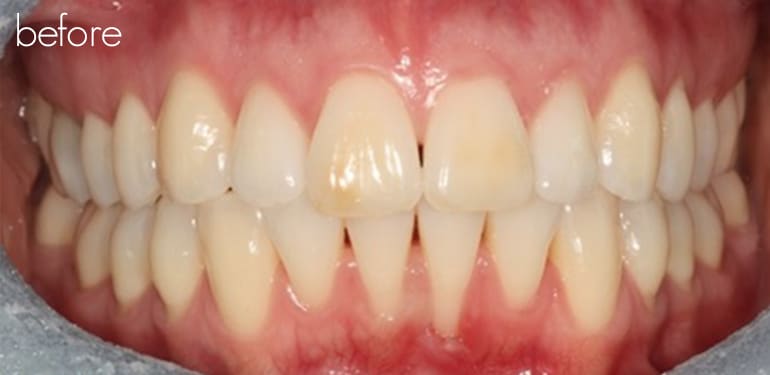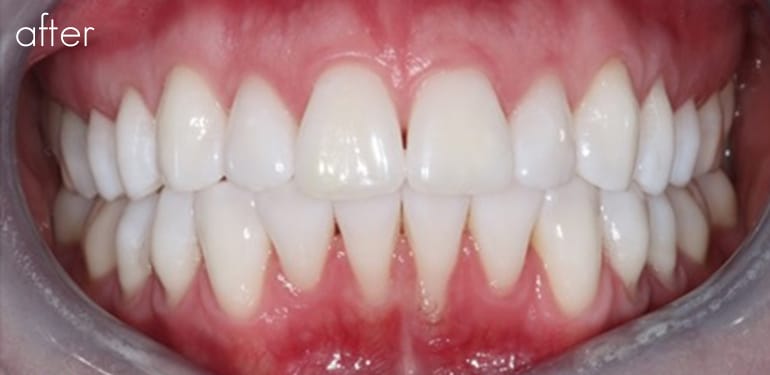 Can I have teeth whitening if I have crowns, veneers or dentures?
Teeth whitening only works on natural teeth and won't be effective on restorations. However, these can be replaced to match the surrounding whitened teeth.
What is 'internal' whitening?
This is when a whitening agent is placed inside a discoloured tooth that has had root canal therapy, meaning the inner part of the tooth (or 'pulp') has been removed and replaced with a rubber filling.
A small hole is drilled into the tooth which we insert the lightening product into and seal with a temporary filling. About a week later we remove the filling and bleach and repeat the process if necessary. When we've reached the desired shade, the hole is permanently sealed with a tooth-coloured filling.
How can I maintain my whiter smile at home?
You should avoid certain food and drink that can cause stainings, such as red wine, tea and coffee. Brush your teeth twice a day and maintain good oral hygiene.
Teeth whitening isn't permanent, but home whitening trays can be reused if you need a top-up.
Practice plan
A small monthly payment secures regular inspections & cleans, special benefits & discounts along with worldwide trauma & emergency-call out insurance*.
Interest Free Credit
Spread the cost for your treatment over 6 months or 10 months Interest Free & no deposit. Get in touch with us today for more information.
Why choose
Free consultation with our Treatment Co-ordinator
Friendly, professional & welcoming team
Payment plans starting from as little as £9.41 per month
Flexible appointment times
Interest Free Finance to help spread the cost
<script type="text/javascript"><!-- [et_pb_line_break_holder] -->jQuery(document).ready(function() {<!-- [et_pb_line_break_holder] -->var container = jQuery("#fixed_floating_menu");<!-- [et_pb_line_break_holder] -->var menu = jQuery("#fixed_floating_menu .et_pb_fullwidth_menu");<!-- [et_pb_line_break_holder] -->var pos = container.position();<!-- [et_pb_line_break_holder] -->jQuery(window).scroll(function() {<!-- [et_pb_line_break_holder] -->var windowpos = jQuery(window).scrollTop();<!-- [et_pb_line_break_holder] -->if (windowpos >= pos.top) {<!-- [et_pb_line_break_holder] -->menu.addClass("stick");<!-- [et_pb_line_break_holder] -->container.addClass("hold");<!-- [et_pb_line_break_holder] -->} else {<!-- [et_pb_line_break_holder] -->menu.removeClass("stick"); <!-- [et_pb_line_break_holder] -->container.removeClass("hold");<!-- [et_pb_line_break_holder] -->}<!-- [et_pb_line_break_holder] -->});<!-- [et_pb_line_break_holder] -->});<!-- [et_pb_line_break_holder] --></script>